Aritzia's adventuruous spirit with #NowwhereEverywhere
Posted On April 26th, 2015 by Candice Pantin

The way we define adventure depends on our own starting point. It could be indulging in a new culinary dish when our taste palette is not as exotic, getting out of our comfort zone and exploring a new country solo, or even stepping out in a new style that we wouldn't normally wear (for the latter, as the moniker to this site, I highly suggest to always Wear what you Like, and Like what you Wear!). Regardless of your reason, the result is always the same – it will take you on an exciting journey filled with possibilities.

Summer being synonymous with spirited fun, this season Aritzia has created a collection that will be your style companion to all your adventurous pursuits. The campaign called #NowhereEverywhere is all about "traveling through faraway lands in clothes that were meant for exploring" and to promote this, they asked me and three other friends – Gabrielle Lacasse from Dentelle+Fleurs, Anik Lacasse-Richard from Montreal In Style, and Gaelle Leroyer – to take a stroll through picturest Old Montreal. The charm of this part of the city gets me every time- the old-world cobblestones, chichi boutiques, and quaint coffee shops are some treasures that you'll find. While we were shooting, I found out that the bakery you see in the last picture, 7 Grains, was one of the locations where The Curious Case of Benjamin Button was filmed! How's that for new discoveries! We also visited the Clock Tower which come in a couple of weeks, the Clock Tower Beach will be a place to lounge, sip fancy cocktails, and transport our spirit to a calming place!

We were clad in their latest selection of rompers and jumpsuits which are perfect to get up and go in style.

I was wearing the Wilfred Bellissime Romper $145, with the Babaton Mikey Coat $225, and Adidas Stan Smith $110.

Get in on the fun by hashtagging your IG pics with #NowhereEverywhere to share the adventure! Get snapping!!!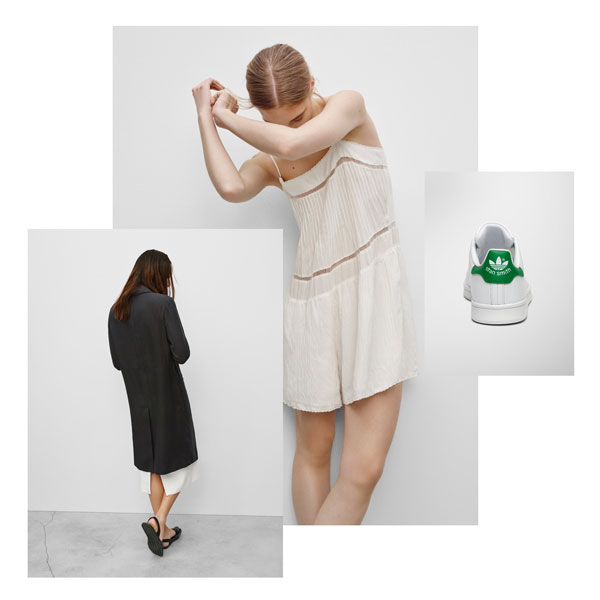 Posted In
Colloborations
Fashion
How To Wear It
Outfits
Places
Style