Last-Minute Beauty Holiday Gifts from Sephora
Posted On December 23rd, 2014 by Candice Pantin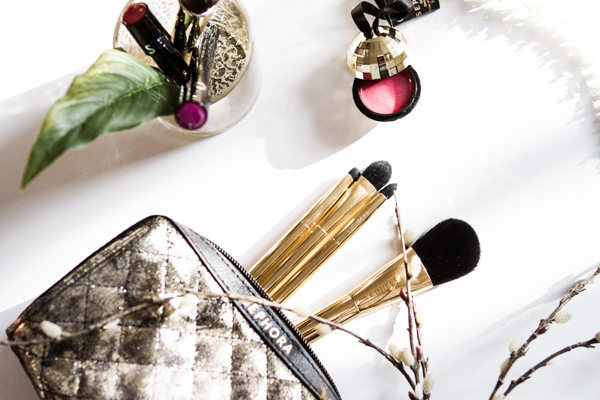 Eeek it's just a couple of days away from Christmas and if you're like us, there are still some peeps left on the gift list. Out of festive ideas? We say think of must-have items that glitter and shine and Sephora has just that with their wide selection of beauty stocking stuffers. Like for example the Sephora Collection Moment to Shine Votive Brush Set of (4) essential brushes for powder, crease, smudge, and shadow. Not only are they practical for everyday, but the gold casing and decorative glass make this a very stylish gift. We also love their Collection Holiday Bags The Escapader with metallic trimming which is so ideal for packing fun weekend getaways. Their Collection Rouge Infusion Lip Duo is for that special NYE celebration- come to think of it, this might be a treat to give from you-to-you! And that shiny disco ball doubles up as an ornament and a lip gloss – brilliant!
Hope all your Holiday shopping goes smoothly. Remember it's the thoughts that counts.
Do it with love and style!
Happy Holidays!
Sephora Collection Moment to Shine Votive Brush Set, $48
Sephora Collection Gold Star Mini Multitasker #45.5 Brush, $18
Sephora Collection Holiday Bag, The Escapader $22
Sephora Collection Rouge Infusion Lip Duo, $17
Sephora Collection Ornament Lipgloss, $6
Posted In
Beauty
2 responses to "Last-Minute Beauty Holiday Gifts from Sephora"