SLIP IT ON: TRIANGL SWIMWEAR
Posted On November 10th, 2014 by Candice Pantin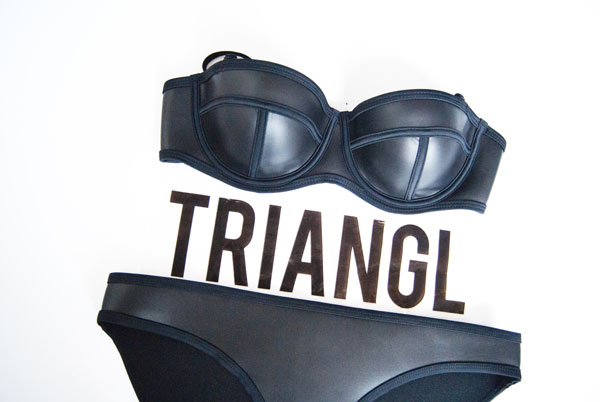 There are a couple of fashion pieces us women are always on the hunt for- the perfect pair of jeans, the slimming LBD, and the flattering swimsuit. The latter has the power to either make us feel wonderful or bring on the wonder woes. But then comes Triangl Swimwear to magically make us stare obsessively in the mirror as we think: "Damn I look good!"
You might have spotted the brand on Insta (that's where we first came across them). All the cool chicks are either posting in them or posting about them. We were extremely stoked to receive our Milly neoprene bikini in matte black. Thanks to the sturdy fabric, it sucks everything in into all the right places. And don't even get us started on how the bottom looks! It gives that sought-after lifted derriere silhouette accentuating the curves for a bootylicious look. Yep, it's that good. The top is really fitted as well with sturdy straps that keep the girls in place. For ladies with a larger chest, we recommend the triangle cut where you can tie the straps around the neck. For those with a smaller size, the bandeau style is very flattering.Beside monochrome styles, Triangl also offers flashy colours designed in hot pink, bright yellow, vibrant orange, and cool sky blue. Every package comes with a care instruction describing on how to properly clean and dry your swimsuit.
We heart it and look forward to our winter gettaway beach vacation to slip this on for our OOTD!
Milly top + bottom: $89 USD
Shop the looks here.
Triangl Milly New York Noir matte bikini, Jerome Bocchio Paris Lyly clutch, Giorgio Armani Beauty Black Ecstasy mascara, Rayban 4141 sunglasses, Aesop parsley toner.
Posted In
Fashion
Photography
Style