3 Stripes – Adidas Head To Toe
Posted On July 14th, 2015 by Candice Pantin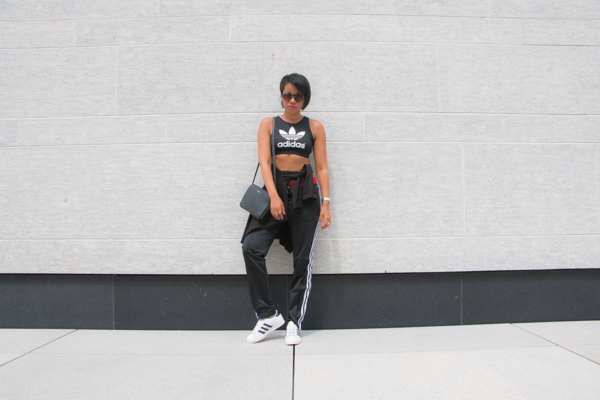 I remember the summer of '96 when I wore my blue Adidas track pants everywhere. My friends and I were a bunch of Kids (cultural pun intended) that were styled in the latest skater sidekick attire- pretty much 3 stripes all day everyday! I've always loved the innate coolness of the Adidas brand and their collabo with iconic style makers like Kanye, Raf, Pharell, Stella, Rick and Rita (that's Ora in case you weren't up to speed on their latest summer collection collabo)
Adidas Canada invited myself and Gabrielle (my sista from another mista!) to attend the FIFA Women's World Soccer Cup Semi-Final game between USA vs Germany here in Montreal. I've never been. I had no clue what to expect. It was exciting. The energy was palpable. We snapped. We laughed. We had fun. Having the chance to be on the green was impressive as was witnessing the speed of those incredible players.
Speaking of incredible. These Superstar HYKE kicks are that. With its black and white colorway and python-like texture make them super sweet. I'm always ambivalent when it comes to sports bras, but I actually went to bootcamp in this one and the support is supreme.
Fast forward 20 years and it looks like I'll be sporting my Adidas track pants all summa long, again!
Sports bra/ Track pants/ and Sneakers: Adidas, Sunnies: TOMS, Jacket: Le Chateau, Bag: Jerome Bocchio, Watch: Triwa
Posted In
Colloborations
Fashion
How To Wear It
Outfits
Style
One response to "3 Stripes – Adidas Head To Toe"