behind the scenes: #irinaxsimons f14 campaign images
Posted On August 18th, 2014 by Candice Pantin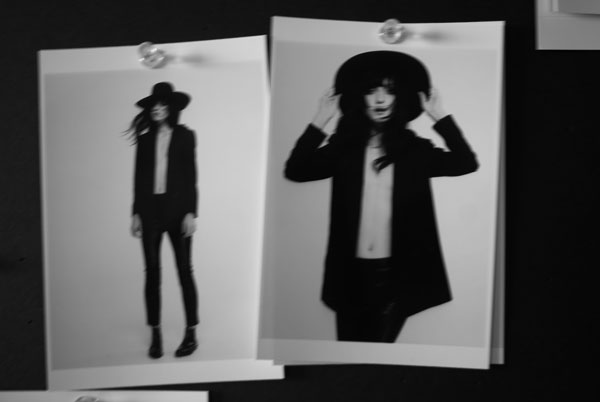 Last week we received the invite to be a spy on the wall while International supermodel Irina Lazareanu shot the campaign images for her new collabo collection with La Maison Simons. Set to launch
September 2nd, the 14-piece Fall 2014 line is designed to fit Irina's iconic androgynous style – think double-breasted blazers, "smoking" trousers, and oversized buttoned-down crisp white chemises. But just like most modern women balanced with a vulnerable strength, the line also offers pretty pieces by way of 20s inspired beaded flapper frocks, plush cashmere jumpers, and lean cropped pants.
And like her rocking boho look, Irina's rise to fame is just as unique in itself. A Karl Lagerfeld and Nicolas Ghesquière muse, the Romanian beauty hailing from Montreal moved to London to pursue a ballet career and ended up befriending Kate. The Kate. While conversing, it took us a couple of seconds to realize that the friend in question is no other than Kate Moss and it made our girl crush a little more real as Irina's candor to have an authentic chitchat is very endearing. This sincere sensibility could be the key to her rocking success in front of the lens as well as behind the mic. With a passion for musical poetry, she's formed a band with Sean Lennon called Operation Juliet and has co-written songs for Peter Doherty's Babyshambles. A creative force of self-expression, she's contributed to the bi-annual publication Rika Magazine and this is her second foray into fashion design- Rini by Irina was launched back in 2010.
With all this penchant for passion, it's very eminent Irina's a romantic at heart – our talk ended with her pouring love for fiancé, contemporary dancer Keir Knight whom she tributes much of her serene inner stillness to have guided her in successfully producing cool collabos as such the upcoming #IrinaXSmions Fall 2014 collection.
#IrinaX Simons
launch date: September 2, 2014
Retail price under $200
Posted In
Events
Fashion
People
Photography
Style