Behind The Scenes: #FMD Fashion Karnaval
Posted On August 28th, 2014 by Candice Pantin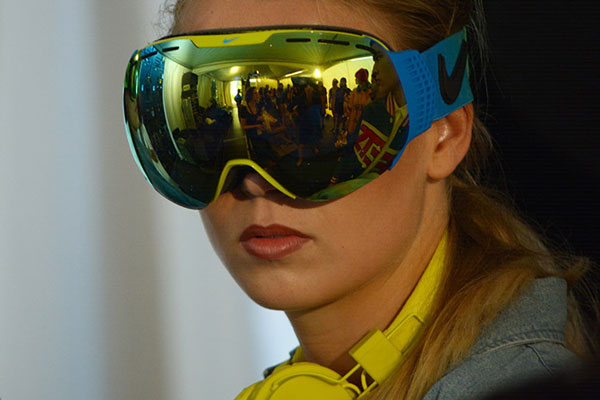 Last Saturday we had the honor of styling a mega show during the Fashion Design Festival. Called Karnaval, the event was one for art lovers. Regrouping fashion, street art, music, and dance the roster of talent that brought this show to life was stellar starting with the concept's mastermind Rodrigo Vergara to DJ Shash'u, Young Paris, and TAVA.
The styling task on hand was to create three different story lines starting with our fave mood: Tomboy Swag! The model that opened the show was sporting Nike goggles and Urbanears colorful headphones. It was a playful mashup of bright shades, oversized, and plenty of bucket hats.
The second look was black and white errthing. Verging on a more minimalist approach with flattering mesh dresses by VFranz and giving a bit of McQueen-esque by styling a Lafaille quadrille monochrome hoodie backwards.
The event ended with a colourful showcase of one of our fave emerging designers, Niapsou. Taking inspiration from his African heritage, the first half of this show featured signature Senegalese fabrics. The looks were colourful, the cuts were captivating, and the girls were stunning. The second half was from the designer's Resort collection  which we were pretty thrilled to premiere the line! Can you believe the garments are designed solely from recycled Chinese robes! Niapsou's passion is limitless- when we inquired about the hours to confect all those handmade flower appliques, he replied that time was never a factor only perfection. Mission accomplished!
Speaking of achievement, you know the saying that it takes a village, well we were so pleased to have the helping hand of the more than lovely supermodel Irina Lazareanu. This girl rolled up her stylish sleeves and got to work in helping create the looks and the flow of the show. She was on the ball and nothing seemed to phase her bubbly spirit. We presume having the record for walking over 90 shows in one season has something to do with it. What a gem!
Thank you for all that attended and most importantly to Sensation Mode for the opportunity to do what I love the most: CREATE.
Also, merci merci to the amazing brands for making the show truly come to life:
bskybrand.com
doesitevenmatter.com
femaledepartment.com
hipandbone.com
lafaille.co
minimum.dk
mi-pac.com
newregime.ca
niapsoudesign.com
robinshoodvintage.com
simons.ca
stance.com
stutterheim.com
wegotsuccess.com
vfranz.com
Posted In
Events
Fashion
Photography
Style