#WeGonnaSlayyy Celebration At Pandore + 10 Life Learned Values
Posted On March 4th, 2016 by Candice Pantin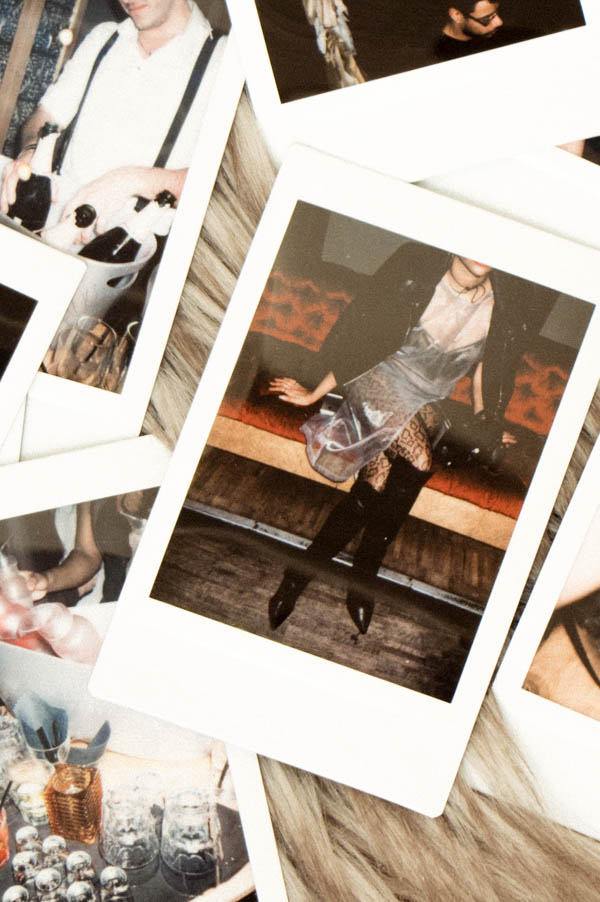 Ruzica Organza Dress, French Connection Leather Jacket, Secret Legwear Tights, Le Chateau Boots
Slay verb \ˈslā\  
killed it.
succeeded in something amazing.
something you tell someone when they look sexy as hell.
A couple of weeks ago that's exactly what I did. I celebrated my birthday in the best way possible by inviting my most stylish friends to have the most stylish of times. #WeGonnaSlayyy, the name of my soirée, was in the spirit of dress to kill (I enforced a mega-babe dress code- extra points is awarded to you Noëlly!), and celebrating being young, beautiful, and fabulous. We partied like rockstars at swanky cocktail bar Pandore which was beyond perf as the nightclub is located at penthouse level providing a sweet view of Montreal's city life all the while making the exclusive experience even more luxurious.   We had our very own VIP booth which I added my signature love for monochromatic style by branding our section with Haute Balloon black and white decor. Sipping on Veuve Clicquot and indulging on Belvedere Red Vodka cocktails, we danced to DJ Pat Boogie's swagged out playlist till the wee hours. Yep, it was that amazing!
What's even more amazing is what I realized after that evening of turning a year older. As I mentioned here, I've declared 2016 to be The Year of The Bombshell. A bombshell in the sense of being the best version of yourself with your beauty shining from the inside and throughout.
Besides that, here are other marvelous revelations I had:
1 – Doing what's best for you doesn't make you selfish;
2 – What is meant for you will never miss you, and what misses you was never meant for you;
3 – Real friends show up emotionally, cherish them;
4 – Believe people's actions not their sugar-coated words;
5 – The sky is not the limit- there are no limitations, go after exactly what you want;
6 – Love is everywhere not only in a significant other;
7 – Happiness resides within;
8 – Always be your own best friend;
9 – The law of attraction is as real as physics, a positive mindset draws favorable situations;
10 – When life gives you lemons, make lemonade but also wear your reddest lipstick, highest heels, and shortest skirt!
Thank you to Ian and Maxime from Pandore for hosting my friends and I to a magical night.
Thank you to Haute Balloon for the chic decor.
And last but not least, thank you to all my friends that made turning a year older even more special, I appreciate you: Anik (for being my IG husband when needed), Anne-Lovely (for being a real life Barbie), Ashley (for being an incredibly understanding dear friend), Beatrice (for your presence to all my birthday parties), Christian (for being one of my killer photographers), Cid (for being one of the sweetest people I know), Danni-Jo (for your spiritual sense of self), Eva (for being a true friend in the making), Fati (for the amazing connect with the peeps at Pandore), Gabrielle (for coming back early from your trip and always being there emotionally), Geri (for slaying all day everyday), Katia (for being a real joy to be around), Kristina (for your hilarious morning lip syncing snapchats) Jennifer (for making women look even more beautiful), Lolitta & Joe (for being an example of true lasting love), Noëlly (for being a Boss Lady), Rapha (for making our city look dope), Spencer (for sharing your amazing talent with the world), and Tinashe & Andy (for the dope WRKDEPT gift)
xoxox
Pandore
1300 Saint-Dominique,Montreal, QC H2X1K4
www.pandore.ca
Posted In
Events
Fashion
Music
Outfits
Places
Style