A night at the museum
Posted On December 16th, 2015 by Candice Pantin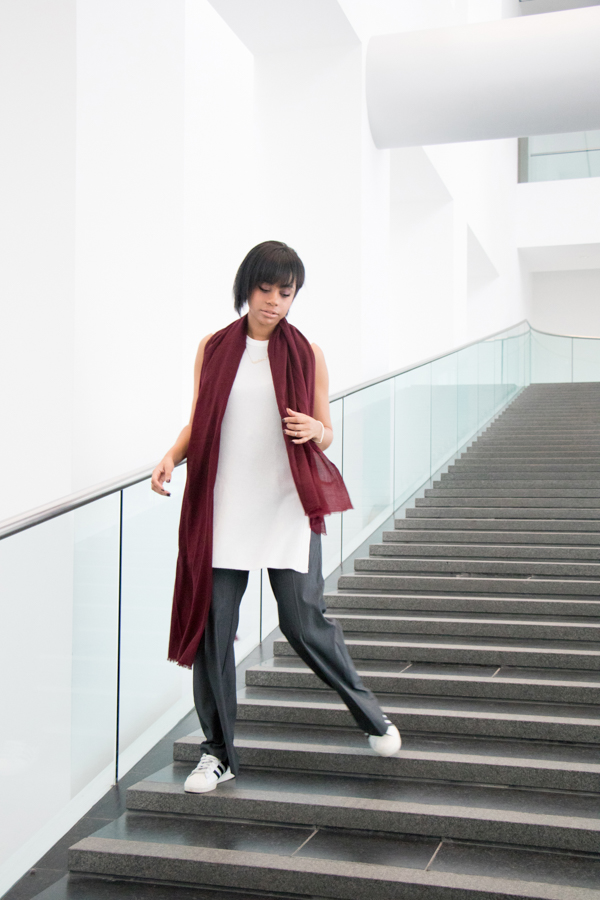 Coat: Le Chateau, Top: Aritzia, Scarf: Mackage, Sneakers: Adidas Superstar
It's not quite winter yet in Montreal (the mercury has barely been below zero) but a fave indoor past time of mine is getting lost at the museum especially during the colder months. I consider it one of my me-times so
I enjoy the tranquility of going unaccompanied. Honestly when you think about it, this type of activity is the equivalent of heading out to watch a movie solo. I never really understood the angst around this because unless you're one of those annoying movie goers that colour comment throughout the film, usually it's just you, the silver screen, and the reverie transporting you to another world. But back to the museum. Yes I prefer visiting solo as taking my precious time going from artwork to artwork while letting the hustle-and-bustle of everyday life slow its pretty little self down is golden. A sort of meditation if you will. Not only is it all so inspiring but equally fascinating to see the outcome of an artist's idea rendered into creative execution. This sort of vulnerable expression of one's talent is like a present given to the rest of the world by making it lighter, prettier, shinier one design at a time.
As Seth Godin states in Linchpin "Art is a personal gift that changes the recipient. The medium doesn't matter. The intent does. Art is a personal act of courage, something one human does that creates change in another." 
And moved I am each and every time (no joke, I was practically in tears while entering
Le Louvre). The stir of emotions derives from witnessing a fellow Being utilizing their experience as a human to share goodness, and also, the illustration of Life from a different angle that might not necessarily be our own.
But not get too esoteric on you, in my humble opinion, cultural pursuits are dire to not only nourish passion but to also create a sense of communal connection even if we pursue these artistic activities all alone!
Frames captured at the Montreal Museum of Fine Arts. If you're into the Roaring Twenties,
I encourage you to check out the exhibition COLOUR OF JAZZ: DISCOVER MONTREAL OF THE 1920S WITH THE BEAVER HALL GROUP which runs until January 31, 2016.
PHOTOGRAPHER: Gabrielle Lacasse
Posted In
Art
Fashion
Style