ILIW HOSTING THE ALICE KASS, DEUX LIONS, IVY ROTCHIN ART POP UP SHOP
Posted On November 13th, 2014 by Candice Pantin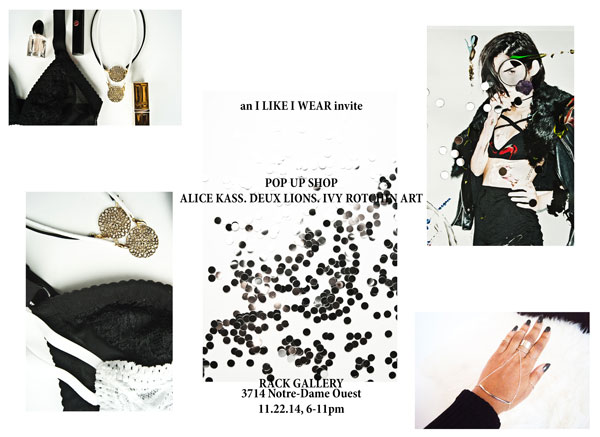 We're excited to announce that we'll be hosting a very special Pop Up Shop with the rocking girls from online lingerie retailer Alice Kass, emerging jewelry brand Deux Lions, and artist Ivy Rotchin. Held at Rack Gallery in Saint-Henri on Saturday, November 22 starting at 6pm, it's going to be a fun evening of shopping, drinks, video and performance art.
If you're not familiar with the work of these ladies and like to be in the know, you'll definitely want to come peruse and shop their goods. The night will entail an exclusive first look at Sabrina Cassis' Alice Kass newest collections (remember we gushed about them here). Their curated selection of brands like L'Agent by Agent Provocateur, For Love Of Lemons, and Kaleigh Peddie, will appeal to ladies that want their lace, mesh and strappy intimates to reflect their afinity for all black errthing.
You'll also be treated to the premiere of Deux Lions' jewelry line. Modern and minimal, these designs are handcrafted by Charlotte Piche in precious amethyst, sleek silver, and soft suede. Piche's attention to detail reflects her experience working at NYC jewelry brand Pamela Love – and that, we love!
If lingerie and jewelry are not really your thing (though they do make for great Holiday gifts- hint hint boys!) there's also something for art lovers as contemporary artist Ivy Rotchin will be revealing never-before-seen paintings as well as photographs by Nico Stinghe that she's painted on. Rotchin's work captivatingly fixates on the beauty, complexity and mystery of the human body, and is influenced by the fashion industry's excesses. All works of art will be available for purchase.
And we've also got you covered on the refreshments department. Yummy coconut water from Cocos-Pure will keep you well hydrated for the planned evening of fun.
For more information, visit the Facebook Event Page here.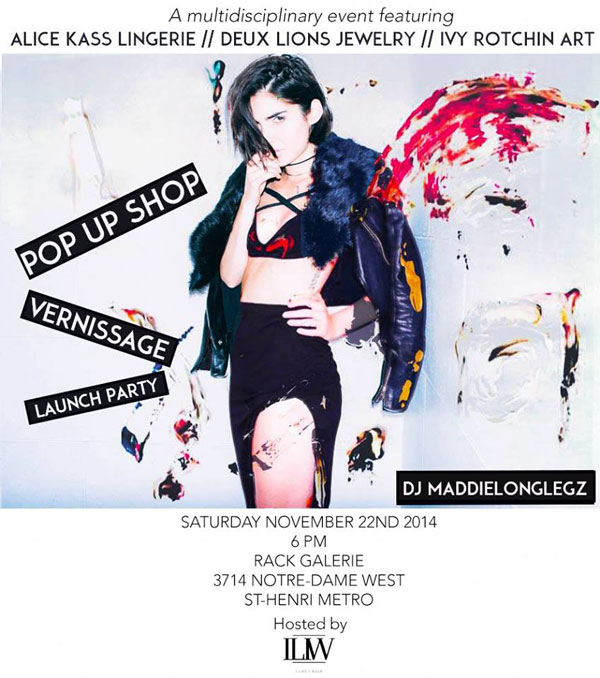 Take a sneak of our preview, there's a little something below…
Looking forward to seeing you all!
Alice Kass, Deux Lions, Ivy Rotchin Pop Up Shop
Rack Gallery, 3714 Notre-Dame Ouest, H4C 1P7 (near Saint-Henri metro)
Saturday, November 22, 2014 6-11pm
#FemmeCollectiveMTL
www.alicekass.com
www.instagram.com/Deux.Lions
www.ivyrotchin.com
Posted In
Colloborations
Events
Fashion