Wearing black makes you seem attractive, confident, and intelligent
Posted On March 22nd, 2016 by Candice Pantin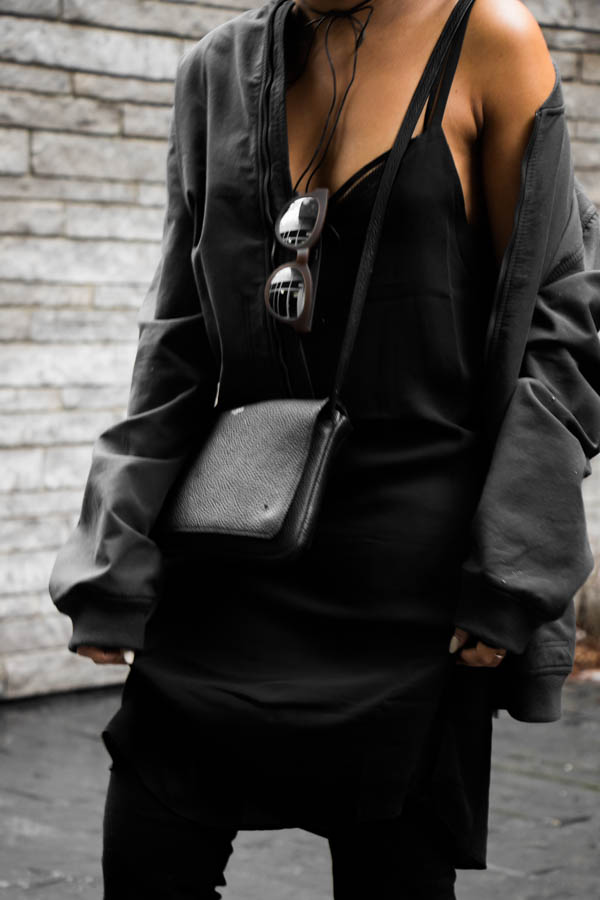 DYK that wearing black makes you appear more attractive? I didn't make this up though I completely agree with this statement. According to the survey titled The Perception of Color conducted by UK retailer buytshirtsonline.co.uk, the study asked 1,000 people to find out the qualities that they associated with the look and it concluded that those clad in noir were perceived more put-together, intelligent, and confident. Duhh! When I'm asked why my closet is one of a monochrome wardrobe, I quip that it's simply part of my style DNA as the look is at once sophisticated and sleek; chic and cool, attractive and arrogant. It's a clean canvas that claims you unapologetically know your fashion stance. Above all it's the most flattering and utilitarian shade one can wear – hello LBD!
Not convinced yet, here are 10 reasons why black is a color you should wear head to toe, day to night!
1 – You can layer like a pro which will create interest to any outfit.
2 – You'll look mature. When was the last time you saw a power suit in cotton candy colour! (FYI, the aforementioned survey also pointed that pink was seen as the least attractive shade according to men about women wearing the hue!)
3 – Your outfit will automatically look more expensive regardless if it's bought from a fast fashion brand.
4 – Your style will be timeless because black is always the new black!
5- You can easily camouflage any accidental spills when you're sipping on cocktails having a great time!
6 – Feel free to wear your fave black jeans 3 times a week, no one will even notice!
7 – You'll look like you belong in the fashion-clique-sitting-front-row squad!
8 – Since it's like a uniform, it will be that much easier getting dressed in the morning.
9 – You can wear your most outlandish accessories dressed in black.
10- It's flattering on every skin tone.
Black is baddass and beautiful- these pieces found at Nouveau Noir Boutique and, king of cool designer, Travis Taddeo clearly state so!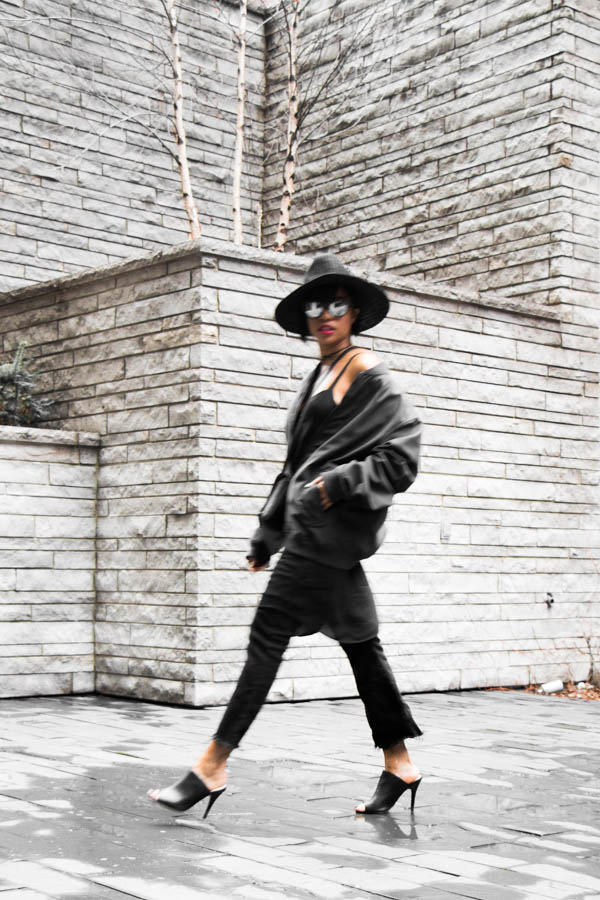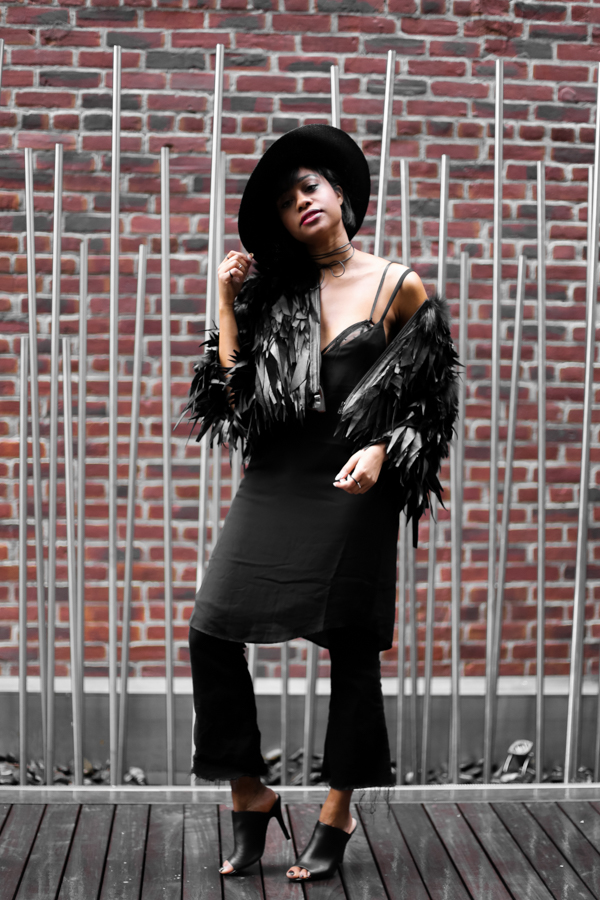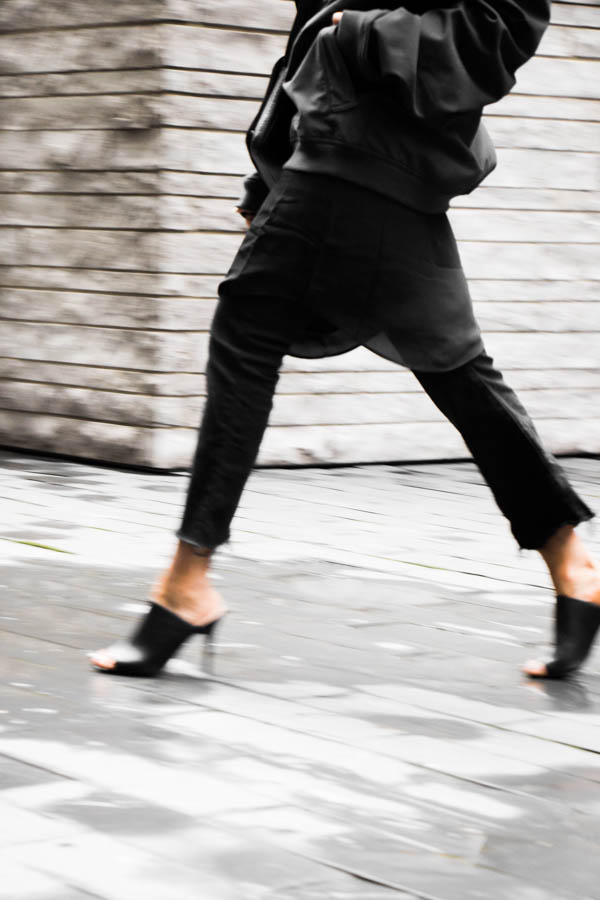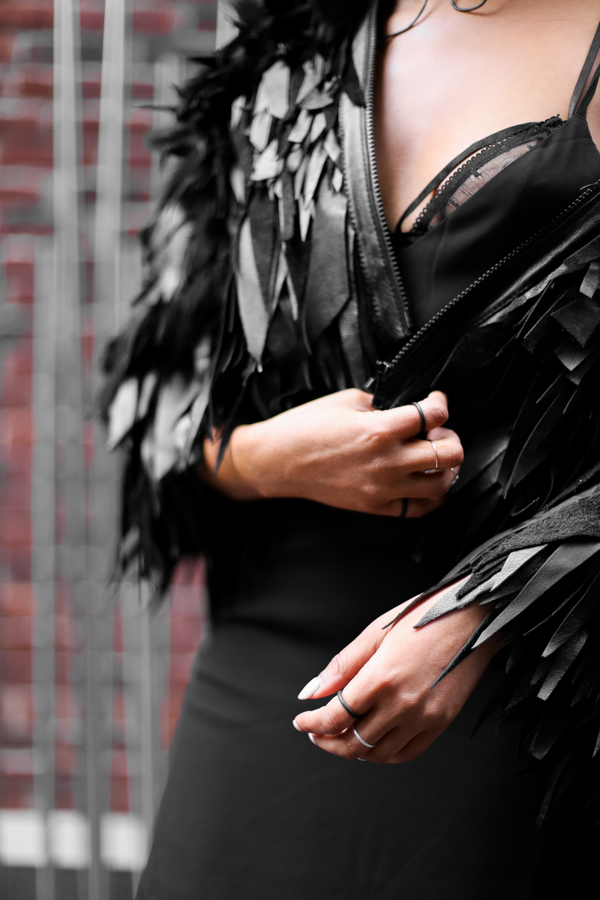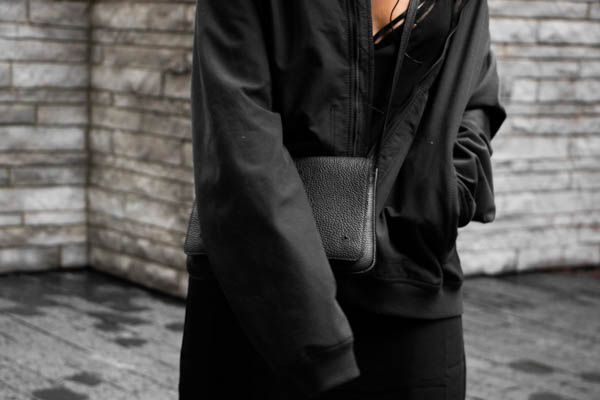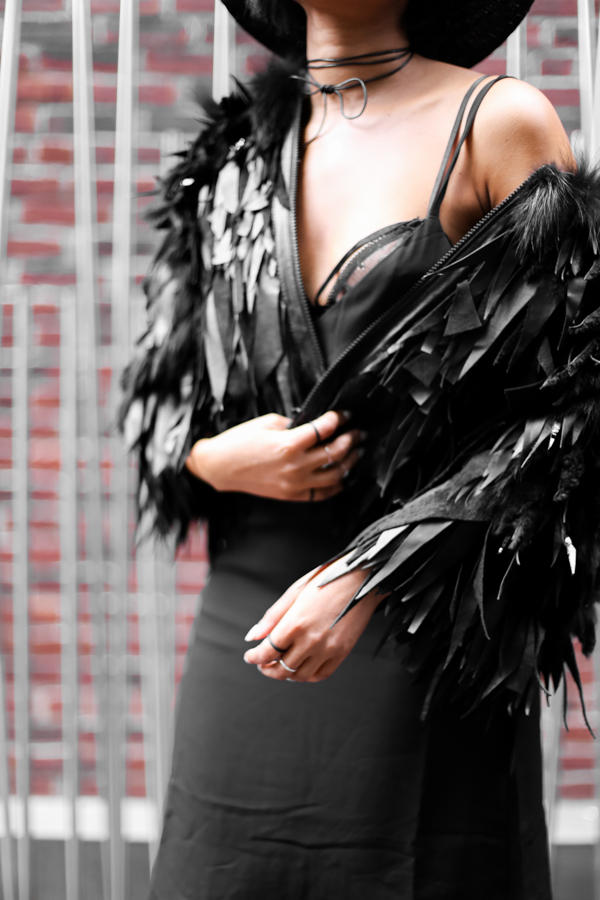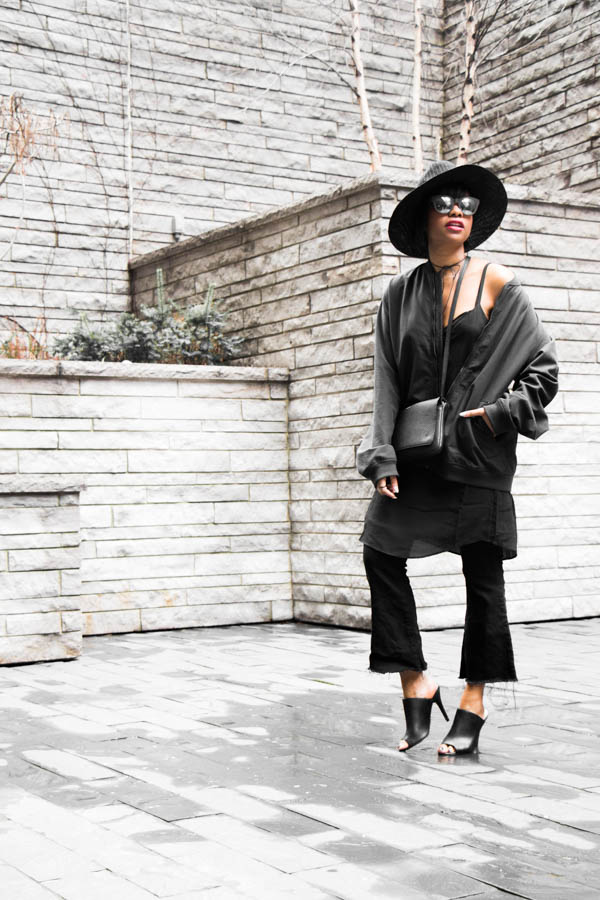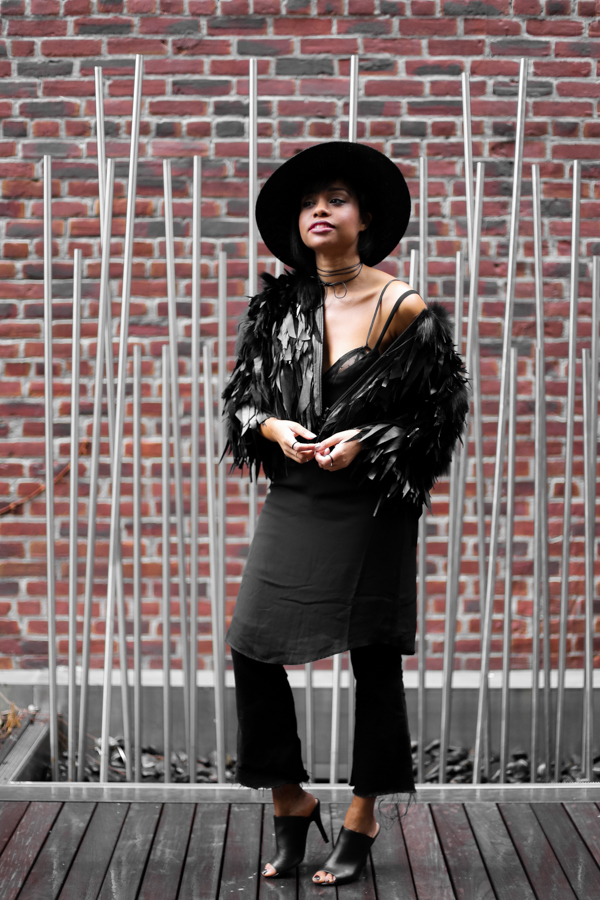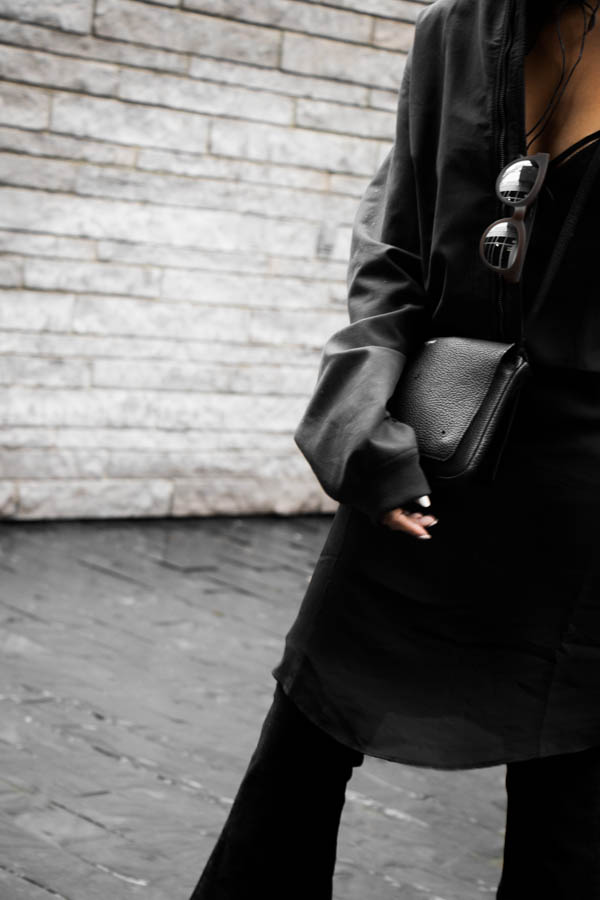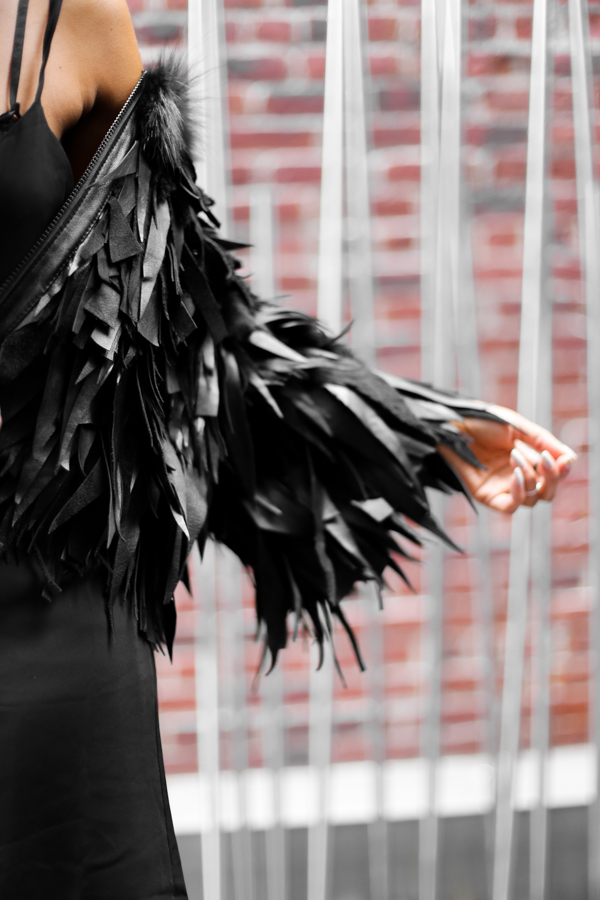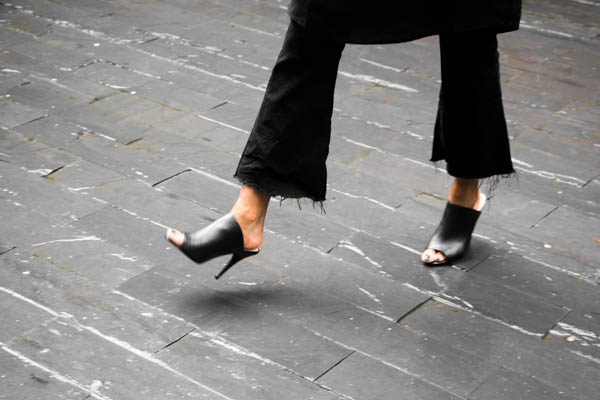 LOOK 1: Sunnies: TOMS Traveler, Men's bomber: Bench, Slip dress: Sincerely Jules from Nouveau Noir Boutique, Cropped frayed jeans: DIY F21, Mules: Le Chateau, Bag: Jerome Bocchio 
Look 2: Leather and fur cropped jacket: Travis Taddeo
Posted In
Colloborations
Fashion
How To Wear It
Outfits
Style